Disclaimer: Ninja Tables Black Friday 2023 Discount is LIVE NOW. You will get a 40% discount across all Ninja Tables pricing plans. If you want to check current offers, then follow the Ninja Tables website to get all updates. Bookmark our Black Friday Deals for Bloggers 2023 page for all future updates.
50% OFF
Deal
Expires On: 12/31/2023
Ninja Tables Black Friday Cyber Monday Deal 2023
It's that time of year again when savvy WordPress users look out for the biggest bargains! The NinjaTables Black Friday Sale 2023 is here, and it promises not only substantial savings but also a chance to elevate your website to new heights with the best table plugin available. With the NinjaTables plugin, displaying data on WordPress becomes a breeze.
Explore More WP Manage Ninja Black Friday Deals
Black Friday 2023 is upon us, and WP Manage Ninja has brought to the table some jaw-dropping deals you can't afford to miss. Dive into this comprehensive guide to discover everything you need to know about the WP Manage Ninja Black Friday Sale 2023.
Key Features of Ninja Tables (Quick Review)
NinjaTables stands out as the most user-friendly and efficient table builder plugin in WordPress. Here's why:
Simple Design: You don't need to be a tech genius to use NinjaTables. Its intuitive design ensures a hassle-free experience.
Fast Loading: Even if you have a plethora of data, columns, or rows, NinjaTables ensures speedy loading times, enhancing user experience.
Sales Focus: For online stores, product organization is paramount. NinjaTables provides detailed and engaging layouts to boost those sales.
Big Data Management: Whether it's a small dataset or a gigantic one, this plugin handles data seamlessly.
Flexible Table Modes: Whether you prefer a Simple Mode for basic table creations or the Advanced Mode for more intricate customizations, NinjaTables has got you covered.
Drag & Drop: Simplify table creation with the easy drag-and-drop function.
WooCommerce Integration: Manage and sell products efficiently using organized tables.
Google Sheets Sync: The real-time auto-sync feature with Google Sheets ensures your data is always up-to-date.
Customization: From colors to columns, personalize every aspect of your table.
Import-Export: Transfer existing data effortlessly and tailor imported tables to your needs.
Pre-made Templates: Save time with readymade templates that can be edited easily.
Ninja Tables Black Friday Price 2023
Black Friday is synonymous with spectacular discounts, and NinjaTables doesn't disappoint:
With these discounts, there's never been a better time to invest in NinjaTables.
Ninja Tables Annual Billing Price Details
| Plan | Price | Domains |
| --- | --- | --- |
| Single | $49 | 1 domain |
| Agency | $99 | 20 domains |
| Unlimited | $199 | Unlimited domains |
Ninja Tables Lifetime Price Details
| Plan | Price | Domains |
| --- | --- | --- |
| Single | $199 | 1 domain |
| Agency | $399 | 20 domains |
| Unlimited | $599 | Unlimited domains |
FAQs about NinjaTables Black Friday Offer
Who can use Ninja Tables?
It's suitable for everyone, from beginners to experts. No coding knowledge is necessary.
How does Drag & Drop Table help?
This feature streamlines the table creation process, making it quick and straightforward.
Why should I choose "Advanced Table Builder?"
For those seeking greater customization and feature-rich tables, the advanced builder is ideal.
What about support or tutorials?
NinjaTables provides 24/7 support to its users, ensuring every query is addressed. Additionally, comprehensive tutorials are available to guide users.
Conclusion: Is Ninja Tables Black Friday Deal Worth?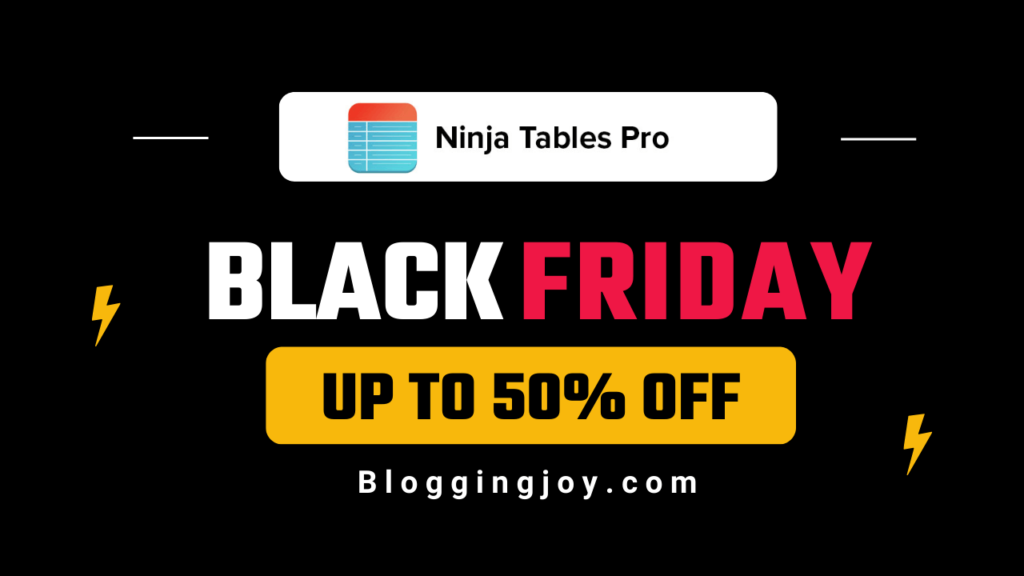 The NinjaTables Black Friday Sale 2023 is an opportunity you shouldn't miss. As the ultimate solution for WordPress tables, NinjaTables promises functionality, flexibility, and efficiency. With rave reviews, robust features, and now, unbeatable prices, upgrading your WordPress site has never been so tempting.
So, If you're
Don't let this opportunity slide; elevate your website's capabilities today with NinjaTables!
More Black Friday Cyber Monday Deals for Bloggers 2023